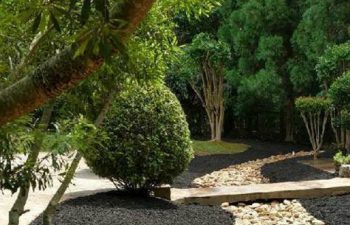 Now is the time to finish those last-minute landscaping tasks before the ground freezes.
Although many believe it doesn't get that cold in Georgia, homeowners in Fayette County, Griffin, Peachtree City, Senoia, Stockbridge and Tyrone know that isn't true. We get frost and occasional snowfalls.
Drain the Irrigation System
In April, we told you Why Investing in a Sprinkler System Is a Good Idea. Now it's time to prepare that system for winter.
You must drain that in-ground system and hoses of water. Water left in pipes and drainage systems will freeze and likely rupture the pipes. You don't want that to happen because digging them up and replacing them will be costly.
Whichever way you do it, you must completely drain the water. You could do it with a drain valve or blow it out with a compressed air technique. The easiest and least expensive method is to call Lanier Yardscaping.
If you don't get it right, it could cost more in the long run — hire a trained professional, sit back and relax.
Get Those Spring Bulbs in the Ground
Take an afternoon and shop for spring flowers. This adventure can push off the winter blues another day.
Remember, daffodils, hyacinth, iris and tulips need to be planted in an eight-inch deep trough, four inches apart, and crocus, snowdrops and muscari (grape hyacinth) in a five-inch furrow three inches apart.
Winterize Those Young Shrubs
Young, delicate shrubs will need protection from the winter weather. Mulch around the bottom of their trunks. Drive four stakes into the ground around the shrubs, and cover the shrubs with burlap. This protective cover should help them thrive through the winter.
Spread Fertilizer or Compost in Your Garden
If you compost, spread a layer of compost throughout the garden this winter or use a high-grade commercial fertilizer. You can either work it into the soil now or work it into the soil in spring. Working it in now will also aerate the soil. If left undisturbed on top of the soil, the compost will have time to break down over the winter.
Aerate, Add Seed, & Fertilize Your Lawn
Even though you did it in spring, now is the time for a second go at aerating your lawn, adding seed and adding a granular, slow-release fertilizer.
Now is also an excellent time to repair that retaining wall, install a fire pit, pergola or seating area.
Contact us, let us know your yardscaping needs and get them done before winter.
Posted on behalf of Lanier Yardscapes LLC
115 Shamrock Industrial Blvd Suite B
Tyrone, GA 30290
Phone: (770) 337-5174
Mon. - Fri. 8:30 AM – 7:00 PM