Forestry Mulching in Georgia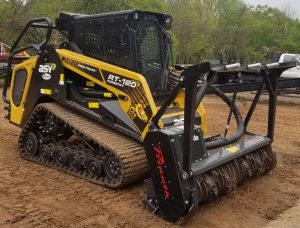 Do you have untamed, unusable property around Atlanta, Georgia, that you wish you could clear and use? Clearing land was once an expensive, invasive and messy project that involved numerous pieces of heavy equipment and smelly diesel exhaust. By the time timbering was completed, stumps were removed, underbrush was cleared and the churned-up ground was smoothed over, you could have a fortune invested a piece of land before erecting a single structure. Lanier Yardscapes is your source for a much better solution – Forestry Mulching in Georgia.
Forestry mulching uses a single innovative machine to clear underbrush, vegetation – even small trees – by turning it into valuable mulch. Costs are greatly reduced and so is the damage to your Atlanta-area property. Forestry mulching creates a natural ground cover that can be harvested and used elsewhere or left in place for erosion control and soil enrichment.
Clear land for resale or use
Create rights-of-way for roads or utility installation
Prepare for land surveys or boundary demarcations
Improve wildlife access
Contact Lanier Yardscapes for more information or scheduling when you need help taming your untamed property in Georgia! Forestry mulching can be a great, affordable solution.
Peachtree City Forestry Mulcher and Masticator
Lanier Yardscapes has invested in the most innovative forestry mulching equipment that will offer premium service with minimal impact to your property. As with all our professional services, we only use the finest tools and equipment to guarantee the most superior results that meet or exceed your expectations. This is certainly true of our newest acquisition: the ASV RT120 Forestry Mulcher and Masticator.
Powered by a Cummins 120 horsepower engine and riding on a patented Posi-Track® rubber-track suspension with a full 15 inches of ground clearance, our new ASV RT120 Forestry Mulcher and Masticator features a Prinoth M450S-1900 Mulching Head that can mulch trees up to 12 inches across!
Flexible 20-inch tracks and suspended wheels conform to the ground for improved traction and movement, but do virtually no damage to the soil. This compact ground loader powers through the toughest, thickest undergrowth in Peachtree City and turns it all into coarse-ground mulch that makes a great ground covering or serviceable décor for your other yardscapes and foliage.
The team at Lanier Yardscapes is trained to safely and efficiently use this state-of-the-art equipment to quickly turn impassable land into attractive, usable and highly-valuable property. If you need to clear land anywhere in Georgia but want to limit your investment, call Lanier Yardscapes and ask about forestry mulching.
Eco-Friendly Land Management in Fayetteville
With a single piece of new machinery, Lanier Yardscapes can do what used to require loaders, backhoes, log skidders, bulldozers, dump trucks, wood chippers and other pieces of heavy equipment. Calculate the cost of numerous professional operators, hundreds of gallons of fuel and the time required to repair the damage to the land itself, and you will see that forestry mulching by Lanier Yardscapes is the best form of eco-friendly land management in Fayetteville and the surrounding communities.
Reduce costs
Reduce air pollution
Reduce fuel consumption
Eliminate damage to the soil
Create completely natural ground cover
Generate your own mulch for landscaping
Provide a healthy wildlife habitat
Make land easy to mow and maintain
Clear your land in or around Atlanta, GA for better use with the area's eco-friendly land management team at Lanier Yardscapes. Forestry mulching provides the ultimate option for environmentally-friendly, economical and speedy land reclamation. Recover wild, overgrown property that is of no value and turn it into a source of wealth and beauty. Contact Lanier Yardscapes – Where the Customer is King! – and inquire about forestry mulching in Atlanta, Peachtree City, Fayetteville, Newnan and Tyrone, Georgia.