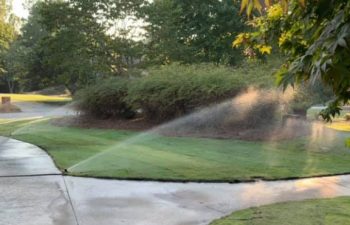 Every property can benefit from a professional irrigation system, from upscale golf courses and sprawling estates to cute, small postage-stamp gardens. Our Peachtree City-based landscaping company works with commercial and residential clients, handling large and small sprinkler installations to ensure everyone's lawns and vegetation are vibrantly healthy year-round.
Save Water, Time and Money
A well-planned and correctly implemented sprinkler system ensures the right amount of irrigation at the correct times to keep your landscape as green as possible. As a result, over- or underwatering becomes a thing of the past. In fact, by not overwatering, you save money on your water bill and reduce weeds, fungi and other plant diseases.
If you have been watering by hand, you will love all the time and trouble you save because of your new convenient sprinkler system. You will also love the convenience of going on vacation without worrying about your landscaping! The sprinkler system will carry on its task of keeping your lawn green as scheduled.
If you have a sprinkler system already, but it is old and requires maintenance, we can fix it or design you a new, improved system. Problems like leaky valves, bad sprinkler heads and improper drainage can waste water, which leads to a waste of money in higher bills.
Ensures Equal Water Distribution
A sprinkler system designed and installed by our lawn care experts prevents uneven watering. We analyze every detail of your landscape when mapping out the placement of your sprinkler system. Each nozzle is placed precisely, and external factors like climate and your property's physical geography (slopes or hills) are considered.
In addition, our automatic lawn irrigation systems feature high-tech timers and sensors to ensure further every inch of your property receives the proper amount of water.
Enjoy the Benefits of a Sprinkler System
You can take the stressful guesswork out of watering by contacting our Peachtree City Sprinkler Installers today to have them install a sprinkler system. Making this move will also increase the value of your property because a perfectly green landscape adds to the beauty of your building.
When you schedule an appointment, our lawn care technicians will meet you at your property to map it out and design a system that works for your landscape. We will create a system especially suited to your needs that will be effective and easy to maintain.

Posted on behalf of Lanier Yardscapes LLC
115 Shamrock Industrial Blvd Suite B
Tyrone, GA 30290
Phone: (770) 337-5174
Mon. - Fri. 8:30 AM – 7:00 PM