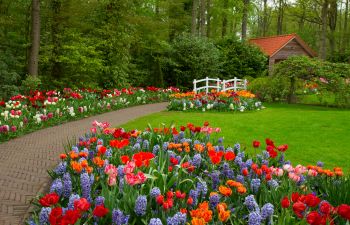 While it may feel dull and dreary right now, springtime really is just around the corner for Georgians. During this empty time when the leaves are barren and the landscape sparse, you have the closest thing you can get to a blank canvas for visualizing your ideal lawn and garden. Ready to crank up your curb appeal to be the envy of the neighborhood or to cash in on a crazy seller's market? A bit of attention to your spring landscape plans now can pay off in a big way when spring has actually sprung.
How a Professional Landscape Design Can be a Real Game-Changer
There are so many projects the average homeowner can manage themselves with no stress and no fuss, but landscape design isn't often one of them. Unless you're blessed with an encyclopedic knowledge of plants capable of flourishing in the Atlanta area's unique climate and how to integrate them into your unique property, you're looking at hundreds of hours of research alone.
By the time you figure out what can grow where, how to plant those things so they're optimally placed and which changes will have the biggest impact, you may find the season is already behind you! Working with a professional allows you to pick the brains of true experts while focusing on the things that matter most to you as a homeowner.
When it's Smart to Outsource Spring Landscaping Labor
If you're just thinking of planting a few bulbs for spring, then the DIY route may be ideal. When you want big, impactful changes in time for the season of rebirth, though, doing it yourself is a major operation. Whether you're committing to a complete and total overhaul or just looking to make a bit more of a splash than comes with adding a new hydrangea bush or two, it's smart to weigh DIY costs.
Your time is valuable, whether you work from home or punch the clock every day. Moderate to major landscape overhauls take a surprising amount of time and a downright shocking amount of labor to complete. If you're left to make all the magic happen on the weekends, you could find yourself wrapping up right about the time autumn leaves start turning.
Specialized experts, on the other hand, can make quick work of even the most ambitious landscape overhaul. You're able to enjoy your investment immediately, rather than working resentfully toward a lofty goal for months longer than you anticipated.
Ready to plan your property's spring facelift? We can help! Call or contact us today to speak with one of our Peachtree City landscaping experts about all your options!
Posted on behalf of Lanier Yardscapes LLC
115 Shamrock Industrial Blvd Suite B
Tyrone, GA 30290
Phone: (770) 337-5174
Mon. - Fri. 8:30 AM – 7:00 PM