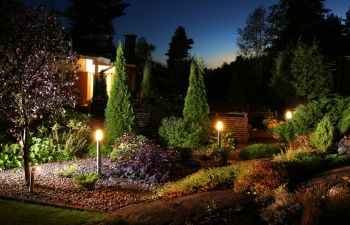 LED outdoor lighting offers many valuable benefits — from enhanced aesthetic appeal to improved safety and security. Here are three examples of how LED outdoor lighting can prevent danger on your property.
Keep Burglars and Vandals Away
A motion sensor outdoor lighting system can discourage unwanted trespassers at your property, whether it's for a commercial or residential property. For example, vacant parking lots are typical for vandalism or thieves to congregate at night for commercial property. Meanwhile, burglars will often check for a door into a garage or a back door for residential property. Unfortunately, these are more inviting than a front door because they usually don't have proper lighting and are commonly unlocked.
Burglars avoid walking across a well-lit area. Instead, they lurk in the dark shadows to approach your house. Therefore, eliminating dark areas around your property will make it more intimidating for a burglar.
Prevent Personal Injury
An adequately lighted outdoor area will prevent people from tripping over stones, falling into the jacuzzi or pool or stumbling over any other unseen hazards. In addition, preventing personal injury to your guests, family, employees or clients should be considered a top priority.
Deter Pests
LED outdoor lighting can startle and ward off predatory animals that can destroy your property or harm (possibly kill) your small pets. Some common nocturnal pests that can cause severe damage to your lawn include possums, raccoons, skunks and squirrels. Meanwhile, nocturnal creatures that can harm small pets, and even young children, include alligators and coyotes.
Types of LED Outdoor Landscape Lights
Selections of LED outdoor lighting are nearly endless. Some fixtures boost safety and security, while others enhance the natural beauty of a landscape. Three common types of outdoor lighting (each serving its own purpose) are rustic outdoor lighting, pathway lighting and area lights.
Rustic outdoor lighting – is used to highlight landscape and hardscape features like trees, rocks, flower beds, koi ponds, fountains or waterfalls.
Pathway lighting – illuminates the walkways and paths on your property.
Area lights – known as "floodlights," are typically used for improving security and can feature a motion detector that lights up if people or animals come near.
LED outdoor lighting is more efficient and lasts longer than other types of outdoor lighting, with a lifespan of roughly 25 years or up to 50,000 hours, depending on the particular light.
Enhance and Illuminate Your Landscape Today!
Whether you want to liven your landscape for aesthetics or increased security, you can count on our Peachtree City Outdoor Lighting Experts to get the job done. Call us at Lanier Yardscapes today! If you live in Fayette County and the surrounding communities, our friendly team can visit your home or business, check your landscape and devise a flawless lighting plan for your space.
Posted on behalf of Lanier Yardscapes LLC
115 Shamrock Industrial Blvd Suite B
Tyrone, GA 30290
Phone: (770) 337-5174
Mon. - Fri. 8:30 AM – 7:00 PM