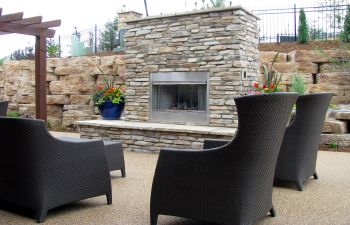 Now is the perfect time to start planning your outdoor Fireplace décor. The dancing flames offer ambiance on a cool fall night and the possibilities of function and fun are endless. You can create a fireplace on which to grill your food or cook a pizza. You can go big with a brick outdoor high structure or small with a tabletop fire feature.
When you have an outdoor fireplace on your deck, patio or backyard living room, the area becomes a perfect entertaining place while creating an inviting focal point. Adding a fireplace to your home can add great value due to its beauty and functionality. Additionally, they make a fine accompaniment to the outdoor living spaces, attracting us to spend our leisure time with friends and family.
Options for Fireplace Décor
When making your outdoor space an extension of your indoor warmth, think Artisan Firebowls, Fire Pit rings, Chimineas and Fire columns. They can be inclusive of any budget in a variety of finishes and fuel types, including wood burning, propane, gel, bioethanol or natural gas.
Ornate fireplaces are a long-term investment that will reward you with many nights of entertaining under the stars with the comfort of a crackling fire. A nice option is a brick or stone see-through fire structure that adds an airy view, opening up space and creating a larger area of fire dynamics.
Chimeneas are a nice freestanding, smokeless option. These front-loading fireplaces, which are recognized by their cylinder stovepipe style, incorporate a vertical smoke vent or chimney, making this ideal for outside decks and patios.
DIY Fireplace Kits
Fireplace kits can be ordered and put together, or you can browse Pinterest for inspiration with pavers in a circle, creating a fire pit. Adding a warming atmosphere to your outdoor area with a glowing fireplace makes for endless possibilities with the available forms and structures.
Outdoor Fireplace Walls
These walls incorporate a glass shield with a wall-mounted electric flame, which can showcase a row of fire for a more modern flare. These come pre-assembled as inserts and they are a better alternative if you have children, as there is no open flame to touch.
If you're dreaming of the ambiance of an outdoor roaring fire, you will need to contact the experts at Lanier Yardscapes today for a one-of-a-kind backyard fire design that will be erected and ready by the fall. Call today to discuss your ideas and dreams for flaming ambiance outdoors.
Posted on behalf of Lanier Yardscapes LLC
115 Shamrock Industrial Blvd Suite B
Tyrone, GA 30290
Phone: (770) 337-5174
Mon. - Fri. 8:30 AM – 7:00 PM