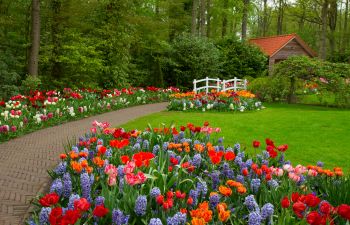 If you have been thinking of taking the plunge into a carefree yard to minimize effort and water waste, imagine beautiful shrubbery and delicate flowing flowers dancing in the wind. There are many great options for your home to adorn your outside spaces with little expense and big payoffs. The possibilities are endless to create a gorgeous landscape to replace your ho-hum lawn in the Peachtree and surrounding areas.
Easier Maintenance, Less Water Waste
You can replace your lawn with water-resistant shrubs and bushes. This makes the upkeep simpler and easier to care for, especially in the long, hot winter months. Think of getting rid of your mower for good! Such an exhilarating feeling! You will see your water bill go down and your view expand.
Make Your Yard Come Alive with Color
Adding the texture and colors of flowers and different greenery will make your lawn come alive and stand out from the rest. The ideas are endless. Try a creek with a fountain for a serene sound and invitation to birds. Reds, whites and yellow creams to name a few. Add in a big pop of color in snowball bushes, bold pink camellias, eye-popping azaleas or feathery Japanese maples that dot the landscape with texture, height and color. Go from boring to fantastic with a setup that allows you to focus on the fun this fall instead of the back-breaking raking of leaves.
Unique Options
There are so many options to choose from for your landscaping arena. Choose happy or bold, modern with fine lines or whimsical farmhouse displays of delicate hues with wispy moving foliage that invites a stroll through the garden. You can add some focal points of fountains or small valleys of cascading water over rocks that create a serene tranquil area of quiet contemplation in nature. The flowers and bird baths will beckon birds, butterflies and bees to buzz happily all around your oasis.
If you can imagine it, the experts at Lanier Yardscapes can create it. Contact the friendly help of Lanier for an at-home consult to go over your property and the many prospects of design to replace your lawns today.
Posted on behalf of Lanier Yardscapes LLC
115 Shamrock Industrial Blvd Suite B
Tyrone, GA 30290
Phone: (770) 337-5174
Mon. - Fri. 8:30 AM – 7:00 PM