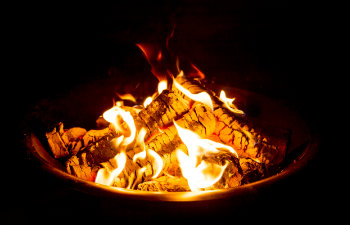 The combination of a firepit and a stone patio can create an inviting atmosphere that encourages relaxation, social interaction, but it must be well-designed, functional and enhance your outdoor living space. Incorporating these elements into the existing landscape can present a significant challenge, as most homeowners don't want to disturb mature landscaping and other features. However, adding a firepit surrounded by a stone patio improves aesthetics, property value and provides a cozy atmosphere for you and your guests to enjoy.
Why Firepits and Stone Patios Work Together
A custom firepit serves as a focal point, drawing people together around its warm glow. The stone patio, on the other hand, provides a durable and attractive surface for seating and entertaining. It also offers a safe surrounding for the firepit, limiting the dangers of sparks and flames since stone won't catch fire. When designed and installed correctly, these two features complement each other and blend seamlessly into your yard, creating a cohesive outdoor living space.
Integrating with Your Existing Landscape
It's essential to consider the current features and layout of your outdoor space before installing your firepit and patio. Start by identifying areas where these new additions will work best, considering factors like the size and shape of your yard, existing structures and natural elements like trees and slopes. The site must allow for proper ventilation, be a safe distance from flammable materials and adhere to all bylaws and regulations. It should also have proper drainage to prevent erosion and winter damage.
Why Professional Landscaping Design Matters
Professionals have the experience and knowledge to navigate complex design issues, such as drainage, local regulations and the skill to create a cohesive design that integrates seamlessly with your existing landscape. When you work with an expert, you can ensure that your project meets your aesthetic desires, minimizes disruption to the existing landscape as much as possible and is performed efficiently and in compliance with all relevant codes. Properly installed, the firepit and patio will be a stunning addition to your home that is safe, durable and long-lasting.
Contact Lanier Yardscapes today to explore all the different ways we can help you create the perfect outdoor oasis in the Peachtree City area.
Posted on behalf of Lanier Yardscapes LLC
115 Shamrock Industrial Blvd Suite B
Tyrone, GA 30290
Phone: (770) 337-5174
Mon. - Fri. 8:30 AM – 7:00 PM