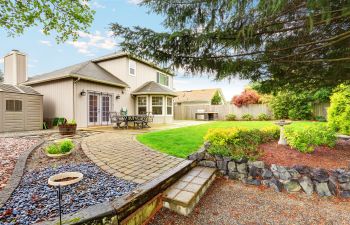 More people are expanding their living space into their backyards since the pandemic. They want to entertain safely in their backyard with family and friends.
Some of the most requested work we are getting this spring involves outdoor kitchens, barbecue pits and pergolas. Clients want a space with shade next to the pool and outdoor lighting, so that it's cool during the day, but the fun doesn't have to end when the sun goes down.
Many homeowners want to extend out into the backyard with amenities like fire pits and seating that is an extension of their daily lives, not a place to escape to once in a while.
Pergolas & Other Permanent Shade Options
Our yardscape architects are changing the way people view their backyard. People want outdoor dining rooms and covered living spaces to relax and enjoy life. Pergolas serve the purpose of providing shade and seating areas to dine outdoors. Some are even choosing these as work-from-home office areas. They want to get fresh air and get work done, too.
We provide our clients with shade during the day and outdoor lighting to highlight those havens when the sun goes down. Pergolas with louvered roofs are a hot item this year. It provides shade by letting some light in and allows the homeowner to build without a permit in some areas that require a permit for anything with a closed roof.
Yardscape a Resort-Like Living Space in Your Backyard
People now want a relaxing backyard in which to swim, work or play. They want a resort-like space with plants, lights, a barbecue pit or fire pit and the shade to enjoy it. In the evening, you can enjoy the allure of water features and outdoor lighting.
Our yardscape designers can give you a backyard that extends your life outdoors so that you can relax, enjoy and entertain with shade. Give your yard a makeover and make the most out of outdoor living with privacy and comfort.
Posted on behalf of Lanier Yardscapes LLC
115 Shamrock Industrial Blvd Suite B
Tyrone, GA 30290
Phone: (770) 337-5174
Mon. - Fri. 8:30 AM – 7:00 PM