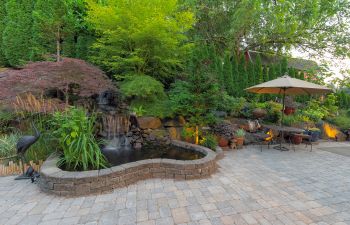 Landscaping is the canvas on which the beauty of your yard rests. The landscaping encompasses the outline of your yard, incorporating attractive trees and bushes. This could include some hardscaping like retainer walls, pergolas, trellises, retaining walls and brick paths or wooden decks. Next, decide if you would like big shade trees or something showy and smaller. This lays the foundation of your yard, starting with the largest structures, going down to the smallest. Adding in bushes or shrubs completes the artistic design, filling in the open spaces. Finally, you can add in flowers, both tall and short, for color.
Tall Trees for Borders
The trees you choose will be the yard perimeters. You can go with tall and wide that offer shade, or shorter and bulkier with flowers for contour and color. You can lay out your needs depending on what you like to do in your yard. Is it barbequing on the weekends with family and friends? They can help you with an incredible patio setting. Or maybe you like spending the summers in your pool. Shade trees or other border trees may make that experience even better.
Bushes for Fill in
Next, you can fill in the empty spaces with bushes for effect. Note any hills or areas of most exclusive sun or shade. Do you need a wider open space of grass for your children to play or pets to roam? Would you like a more private set apart area for a quiet reading spot? You can incorporate the hardscapes mentioned above for seclusion and backdrops.
Whether it is looking for trees for your region or coming up with a patio setting idea, Lanier Yardscapes can help. Please schedule an appointment with Lanier Yardscapes today for Peachtree City Landscape Design. We look forward to working with you on your upcoming landscaping project.
Posted on behalf of Lanier Yardscapes LLC
115 Shamrock Industrial Blvd Suite B
Tyrone, GA 30290
Phone: (770) 337-5174
Mon. - Fri. 8:30 AM – 7:00 PM