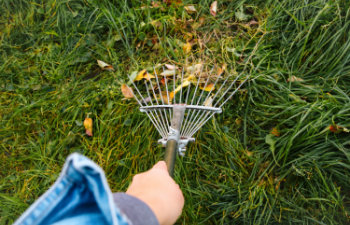 As the vibrant colors of summer fade and the leaves turn color and start to fall, it's time to shift your focus to fall landscaping maintenance. The autumn season presents an opportunity to prepare your garden and outdoor spaces for the colder months ahead while ensuring your landscape remains healthy and beautiful. Lanier Yardscapes provides tips on how to get your outdoor spaces ready for the changing season.
1. Lawn Care
Fall is an excellent time for lawn aeration, which involves perforating the soil with small holes to allow air, water, and nutrients to penetrate deeper. This process helps improve root growth and overall lawn health. If your lawn has bare patches or thin areas, overseeding after aeration in the fall can help fill in those spots and promote a lush, green lawn come spring.
2. Leaf Removal
Falling leaves are a hallmark of autumn, but letting them accumulate on your lawn can smother the grass and create a breeding ground for diseases. Regular leaf removal is crucial for maintaining a healthy lawn.
3. Pruning and Trimming
Fall is a perfect time to trim back overgrown shrubs and trees to prevent them from becoming damaged by cold temperatures during the winter. Remove dead or diseased branches to promote overall plant health.
4. Planting Bulbs
Fall is when you should plant spring-blooming bulbs like tulips, daffodils, and crocuses. The cool soil temperature encourages root development, ensuring a vibrant display of flowers in the spring.
5. Mulching
Applying a layer of mulch to your garden beds helps insulate plant roots and retain moisture during the cooler months. It also provides a neat appearance to your landscaping.
6. Lawn Fertilization
Applying a fall-specific fertilizer helps nourish your lawn's roots and promotes strong growth before winter dormancy.
7. Garden Cleanup
Remove spent annuals and vegetable plants from your gardens, as they can harbor pests and diseases over the winter. Also, cut back perennials to ground level, leaving only a few inches of growth, and clear away debris to prevent overwintering pests.
8. Irrigation and Drainage
Drain and winterize your irrigation system to prevent freezing and potential damage. Ensure proper drainage around your property to avoid water pooling and potential flooding during the rainy season.
9. Protecting Sensitive Plants
For delicate or cold-sensitive plants, consider wrapping them in burlap or providing shelter to shield them from changing weather conditions.
10. Hardscape Maintenance
Check and repair any cracks or damage to paths, patios, and retaining walls. Moisture and changing temperatures can exacerbate existing issues.
11. Lawn Equipment Care
Properly clean and store lawnmowers, trimmers, and other garden equipment for the winter to prevent rust and deterioration.
12. Pest Control
Fall is an excellent time to address pest problems. Apply necessary treatments to prevent infestations during the winter months.
By taking the time for fall landscaping maintenance, you are preparing your outdoor spaces for the colder months and investing in your landscape's long-term health and beauty. Regular maintenance ensures that your garden and lawn rebound beautifully when spring arrives. Additionally, a well-maintained landscape can enhance your home's curb appeal and create a welcoming outdoor space for you and your family to enjoy year-round. At Lanier Yardscapes, we welcome the chance to help you perform needed fall landscaping maintenance – contact us to schedule fall landscaping services in Peachtree City, GA, and the surrounding communities.
Posted on behalf of Lanier Yardscapes LLC
115 Shamrock Industrial Blvd Suite B
Tyrone, GA 30290
Phone: (770) 337-5174
Mon. - Fri. 8:30 AM – 7:00 PM