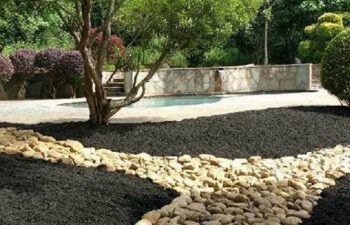 Soil erosion can affect the stability of driveways, walkways and landscapes. When these structures begin to sink or suffer damage, it creates a safety hazard that should be addressed. Whether you are a home or business owner, you are potentially liable for any accidents on your property.
Besides becoming an eyesore, areas that have suffered erosion are danger zones. Trip and fall accidents can result in serious injuries. These accidents are more likely to happen in high traffic areas such as driveways or walkways. However, a dip in your landscape that is disguised by long grass is also a potential hazard.
Erosion Solutions
Lanier Yardscapes can help you with any erosion problems on your property. We deploy experts in landscaping who have extensive industry experience. When cracks begin to appear in concrete or asphalt, it may point toward issues below the surface.
We can identify the location and cause of erosion. Our goal is to provide effective solutions that result in restored stability. There are several potential causes of soil erosion, including soil shifts, water intrusion and voids forming in the soil. When these issues occur in or under structures such as driveways, it is important to address the problem swiftly.
If your property is plagued with erosion, Lanier Yardscapes is here to get to the root of the issue. We aim to ensure that the stability and attractiveness of your hardscapes or landscape is restored. Avoid expensive property repairs with erosion control that prevents the loss of soil, mudslides and all the other destructive impacts of erosion.
Reach out to Lanier Yardscapes in Fayette County to learn more about our soil erosion control services. We are committed to providing home and business owners with solutions to every landscaping disaster. By employing experts in every field associated with landscaping, we know our team will always exceed customer expectations.
Posted on behalf of Lanier Yardscapes LLC
115 Shamrock Industrial Blvd Suite B
Tyrone, GA 30290
Phone: (770) 337-5174
Mon. - Fri. 8:30 AM – 7:00 PM