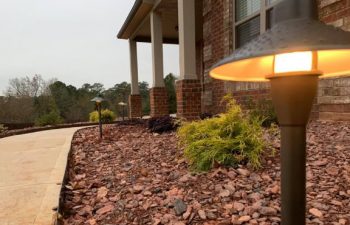 If you notice damp in your basement, it is not a good idea to ignore the problem. Water intrusion is a common problem that can result in extensive repair costs for homeowners. Structural issues such as foundations sinking can jeopardize the integrity of your property. Other potential headaches include mold that is hazardous to health, and pooling water around basement walls.
The most likely cause of water intrusion in basements is poor drainage. Water always flows along the path of least resistance. If your basement walls or foundations are in the way, water will cause erosion or find its way through cracks in the structures.
Basement Waterproofing Solutions
Preventing water from entering your basement and foundations is the recommended solution. Water is diverted so that it drains effectively and does not come into contact with walls or foundations. An inspection of your landscape and property will allow Lanier Yardscapes to determine the best strategy for waterproofing your basement.
If your home already has basement waterproofing but moisture is still able to seep through, it is time to consider a different approach. Some waterproofing methods are only designed to create a barrier inside the basement, which is ineffective in protecting walls and foundations.
Our drainage and waterproofing specialists will ensure that water never reaches these integral structures. We understand that effective drainage is an essential part of safeguarding homes from the natural elements. Our waterproofing systems are designed to provide permanent protection in Fayette County and surrounding communities. We can also deliver waterproofing solutions to commercial property owners.
Call today if you are concerned about water intrusion in your residential basement or business premises. The Lanier Yardscapes team will identify the source of the problem and take action to design and install an effective waterproofing system.
Posted on behalf of Lanier Yardscapes LLC
115 Shamrock Industrial Blvd Suite B
Tyrone, GA 30290
Phone: (770) 337-5174
Mon. - Fri. 8:30 AM – 7:00 PM