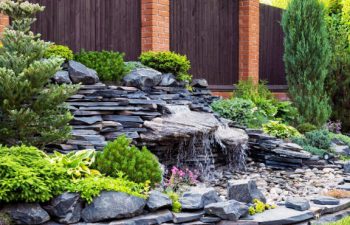 When clients or visitors come to your commercial premises, what is the first thing they see? If you immediately think of your parking lot and the outward façade of the property, you should consider adding more appealing features.
Hardscapes are features that can be both aesthetic and functional in nature. By complimenting the architecture of your commercial premises, these landscape additions blend seamlessly with their surroundings. For a business, that means attracting more customers. You can choose hardscapes that are custom-designed and built to enhance your commercial curb appeal.
Commercial Premises Lighting Solutions
The right lighting can create a warm and welcoming atmosphere. Ambience is an important factor in why customers choose to visit a business. You can influence the mood and emotions of your visitors with attractive outdoor lighting solutions.
Businesses that open out of normal business hours will benefit from effective lighting placement. Not only will your business gain an attractive feature, visitors will feel safe on the premises. There are countless options in outdoor lighting for commercial properties from Lanier Yardscapes.
Water Fountains
Water features like fountains are another type of hardscape that is ideally suited to business landscapes. Customers will recognize your commitment to excellence before they have even entered your premises. Businesses that cater to children should consider installing a water fountain.
Children love water fountains and will look forward to visiting your business. As a unique talking point, these custom designed hardscapes will give commercial curb appeal a boost. Lanier Yardscapes will work with you to integrate your hardscapes with the landscape and your business premises.
Call Lanier Yardscapes to discuss your commercial hardscape ideas and find out how we can help with design and installation. We look forward to helping you make your premises a more attractive option for visitors.
Posted on behalf of Lanier Yardscapes LLC
115 Shamrock Industrial Blvd Suite B
Tyrone, GA 30290
Phone: (770) 337-5174
Mon. - Fri. 8:30 AM – 7:00 PM