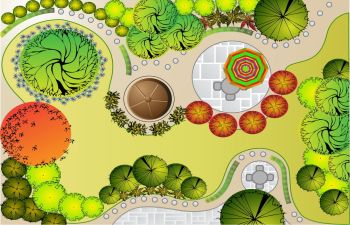 It is often said that the heart of the home lies on interior design. Security, relaxation and warmth are just some of the qualities that families look for in a property. It is understandable to design the spaces where you spend the most time for maximum comfort, but don't forget that your yard can offer similar qualities.
Nature, and outside spaces in general, provide a refuge from day-to-day life. The grind of work or school can feel overwhelming at times. You and your family deserve an oasis away from it all, with features that cater to both children and adults.
Functional Landscapes
Functional landscapes are achievable with the right contractor. From irrigation to outdoor fireplaces, your perfect design should make comfort a primary consideration. Drainage solutions are also a money-saver, as maintenance for lawns and other planted areas is significantly reduced.
Outdoor fireplaces and kitchens are popular functional hardscapes. Homeowners can cook outside in the summer, and spend cozy nights by the fireplace in the winter. As a rule, it helps to choose hardscapes that reflect the needs of you or your family. If the yard is the soul of your property, it's important that every feature speaks to you and everybody you love.
Beautifully Crafted Landscaping
There is nothing better for the soul than spending time outdoors on a beautifully crafted landscape. The symmetry between hardscape, lawn and floral features is important for relaxation and comfort. At Lanier Yardscapes, we specialize in offering our customers a vehicle for their vision.
If you come with the ideas, we will create the reality. Our team works closely with customers to make sure every detail is designed and implemented to the letter. We value communication and customer service, as both are invaluable in building successful relationships.
Yardscape Consultation
The first step toward achieving balance between your inside and outside life is arranging a yardscape consultation. Our team will come out to your home or business to inspect the site and determine the best strategy for realizing your vision.
Call Lanier Yardscapes today to book a consultation, inquire about design ideas or find out which services are best suited to your needs.
Posted on behalf of Lanier Yardscapes LLC
115 Shamrock Industrial Blvd Suite B
Tyrone, GA 30290
Phone: (770) 337-5174
Mon. - Fri. 8:30 AM – 7:00 PM