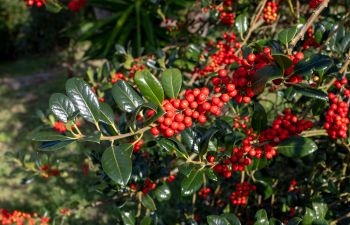 Are you getting ready to make your home festive and bright for the holidays? A well-maintained lawn can boost your curb appeal and create a cozy atmosphere for your holiday decorations. Here are three ways you can quickly spruce up your Atlanta landscaping to be ready for the holiday season.
Remove Debris
Before you start decorating your yard, you may want to create a clean slate by removing debris while the weather is still nice. Trim overgrown trees and hedges and pull weeds from your garden and flower beds. Store unused outdoor furniture and outdoor accessories. Add mulch to your landscaping to help protect your lawn from plummeting temperatures. Rake leaves to prevent the growth of fungal diseases and suffocating your grass during the winter.
Boost Landscaping with Colorful Seasonal Flowers
Adding seasonal flowers in planters along high traffic areas of your landscaping can boost the holiday appeal of your Atlanta home. Get creative by using a combination of plants like evergreens, holly, poinsettia and winter honeysuckle that can survive colder temperatures. Using planters and window boxes can give you the option to switch your boosts of colors with other plants and flowers during the rest of the seasons.
Install Outdoor Lighting for Holiday Entertaining
As it gets darker earlier during the winter months, it can make it difficult for guests to see at night when visiting your Atlanta home. Serious injuries can occur from trips and falls. Landscaping lighting can help keep your guests safe while entertaining for the holiday season. You can also protect your home and family from burglars who may perceive your home as an easy target during the holidays.
Customized Atlanta Landscaping Designs for the Holidays
While preparing for the holidays can be fun, it can also be time consuming. Enjoy more time with family and friends by creating a plan for your Atlanta home with professional landscaping experts. Lanier Yardscapes specializes in customized landscaping designs to fit any style and budget. Lawn maintenance services can give you peace of mind knowing your lawn will be safe and protected all winter long. Be ready for the holiday season by scheduling an appointment today.
Posted on behalf of Lanier Yardscapes LLC
115 Shamrock Industrial Blvd Suite B
Tyrone, GA 30290
Phone: (770) 337-5174
Mon. - Fri. 8:30 AM – 7:00 PM