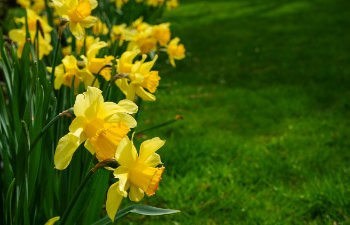 The arrival of spring creates the perfect opportunity to give your landscaping a fresh look. To bring new life, you may need a few ideas of inspiration to boost your curb appeal for maximum enjoyment. Here are three tips to help you maximize your landscape design this spring.
Boost Aesthetics with Splashes of Color
The best way to boost your landscape design is to add splashes of color throughout your yard. Ornamental trees or lively gardens can enhance the aesthetics and overall value of your home. Choose an array of plants and flowers in bold colors. Consider planting your flowers in pots throughout your yard for easy lawn maintenance. If you have a large yard, you may want to consider planting fruit trees to boost your outdoor entertaining.
Upgrade Your Landscape Design with a Garden Path
A garden path can provide more depth for your landscape design and enhance the aesthetics of your outdoor elements. If you plan on entertaining guests, your lawn can be protected from people walking on sensitive grass and trampling your beautiful flowers. While concrete is a popular choice, there is a wide variety of organic materials you can use if you are concerned about the environment. Alternative options can include mulch, pavers or loose stone.
Extend Your Outdoor Space with a Patio
Extending your outdoor space with a patio and plenty of outdoor seating can help you maximize your landscape design this spring. Consider what elements you may want to include on your patio for entertaining guests. Popular options can include fire pits for cool nights and an outdoor bar or pizza oven. If you already have a patio, now is the time to schedule an inspection to ensure your outdoor area is in optimal condition for guests.
Peachtree City Landscape Design Services
If you are looking to maximize your landscape design this spring, you may want to consult with an experienced professional for advice. Lanier Yardscapes has a solid reputation for creating beautiful landscapes for homeowners and commercial businesses in Peachtree City. A landscaping expert can come to you and recommend the best plan for your needs and budget. Call to request a landscape design consultation appointment today.
Posted on behalf of Lanier Yardscapes LLC
115 Shamrock Industrial Blvd Suite B
Tyrone, GA 30290
Phone: (770) 337-5174
Mon. - Fri. 8:30 AM – 7:00 PM