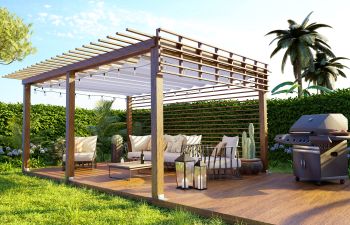 Those who have discovered the joys of hosting parties and friendly gatherings in their backyards frequently wonder what else they can do to improve their outdoor living area. When you take pride in your outdoor spaces, it is natural to look for ways to improve them. With each enhancement, the yard's aesthetic value and user comfort rise. Additions to your property's landscape give it a personality and make it easy to welcome guests.
If you are contemplating the next yard-boosting feature, may we suggest a custom-made pergola? It will enhance the feel and look of your outdoor living space. Indeed, there are several advantages to having a pergola in your yard.
Ways a Pergola Adds Value to Your Outdoor Spaces
To begin, what is a pergola? A pergola is a garden structure with upright supports, no walls and a decorative roof, like a strong open lattice. They can be used to enhance the aesthetic appeal of the backyard, or they can be used to create a comfortable seating area that is open to the elements but protected from direct sunlight.
Paramount as both an open-air and enclosed area are to the purpose of a pergola, these structures offer many other benefits as well. Vine flowers look beautiful when entwined around these supports. When you add climbing plants to your pergola, your outdoor space will feel like your own private Garden of Eden. It can also be multi-functional, supporting fruiting plants. For example, during this time of cultural renewal in Rome, grapes were grown on pergolas held up by smooth, elegant stone pillars.
Custom Pergolas Can be Made to Suit Any Style, from Rustic to Modern
A pergola can be the focal point of any backyard design. They can be made of whichever material and size you choose. Whatever your pergola looks like, it will be an attractive vertical element to an otherwise flat space and complement your home.
A pergola is all you need to make your grill area feel more like an outdoor kitchen. Another great idea: A pergola can create a private seating area in the garden for peaceful contemplation or turn part of the poolside lounging zone into a luxury hideaway for socializing in the shade.
Are You Ready to See What a Custom Pergola Can Do for Your Outdoor Living Space?
Lanier Yardscapes' landscaping experts can create a one-of-a-kind pergola with the exact aesthetic and functionality you want from the best quality materials and craftsmanship. We can provide your Georgia landscape with the pergola of your dreams. Call us to discuss adding one to your outdoor space.
Posted on behalf of Lanier Yardscapes LLC
115 Shamrock Industrial Blvd Suite B
Tyrone, GA 30290
Phone: (770) 337-5174
Mon. - Fri. 8:30 AM – 7:00 PM