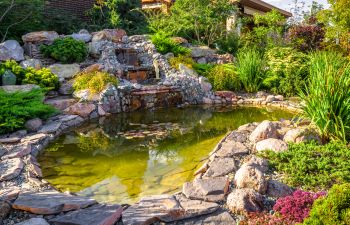 Lanier Yardscapes has installed countless water features throughout Georgia, and we know that variety and individuality is paramount for our customers. Smaller yards are enhanced by the gentle sound of a bubbling urn or pondless waterfall. Larger gardens can be brought to life with fountainscapes or elaborate water gardens.
Many Georgia residents are becoming more environmentally aware, wanting their yards to not only look beautiful but provide a safe habitat for wildlife. Planting trees and wildflowers are just the first step in encouraging wild flora and fauna to visit your garden. Many animals are attracted to and benefit from a source of water, and Lanier Yardscapes can assist you with installing an ecosystem pond.
How Does an Ecosystem Pond Work?
The main difference between an ecosystem pond and other garden features is the provision of fresh, clean water. Natural ponds support life by being constantly replenished via an adjoining river or stream. In a closed pond, toxins will build up and oxygen levels depreciate over time, even if the water looks clear.
Your ecosystem pond will incorporate a pumped skimmer that will draw in dirty water and remove debris. This is then passed through a UV clarifier via an underground PVC pipe, cleaning the liquids. Finally, water is reintroduced to your pond through a biological waterfall filter to clean out any impurities and toxins.
Lanier Yardscapes recommends supporting the filtration system by introducing plants that naturally remove nutrients that would otherwise sustain harmful green algae. Decorative rocks or gravel at the bottom of your pond are visually appealing and allow the water to filter in a natural way. Additives placed in the water keep conditions healthy and make it more likely that amphibians and other animals will live and thrive in this environment.
Can I Keep Fish in an Ecosystem Pond?
While wild visitors to your pond like birds, frogs and newts are always welcome, many people want to add their own aquatic pets to their water feature. A properly maintained ecosystem pond should be able to sustain goldfish, as they are quite resilient. Allow your pond's ecosystem to balance out before adding fish, which can take anywhere from a few months to a year.
If you want to add a large number of fish, or intend on keeping expensive and relatively fragile Koi, you should opt for a dedicated Koi pond. These ponds have additional features like a bottom drain and sediment chamber to remove solid waste. You will also need an aerator to keep oxygen levels consistent.
Lanier Yardscapes has extensive knowledge on what is needed to keep your pond inviting to both wild and domestic animals. Contact our store in Georgia today for more information.
Posted on behalf of Lanier Yardscapes LLC
115 Shamrock Industrial Blvd Suite B
Tyrone, GA 30290
Phone: (770) 337-5174
Mon. - Fri. 8:30 AM – 7:00 PM