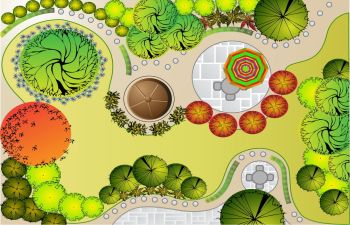 Now that most of the beautiful leaves are gone, your front yard is probably starting to look rather dull and listless. All those bare trees and shrubs are pretty dismal.
This is especially true if you didn't plan for this fall with perennials to brighten up your front yard. Every good gardener knows about Mums, which you should plant in Spring, but what are some perennials for Fall planting?
Planting some tricolor Sedum will provide you with color all year. Plus, these perennials spread out and take up space that weeds would typically consume. Butterfly Blue Scioscia will bloom from April until frost. Sprinkle in some Autumn Crocus, Japanese Anemones, Joe Pye or Blue Mist shrubs, Goldenrod and Tickweed to ensure next Autumn will be bright and beautiful.
Once you plant these autumn-blooming flowers and shrubs, they'll provide color every year. Plus, you'll support your local pollinators like bees and butterflies longer with fall-blooming perennials.
Install a Fire Pit & Pergolas

A pergola and fire pit in your front yard, off to one side or the other, means you won't miss being able to chat with your neighbors as they pass. Likewise, you can offer a warm or shady space to sit while you catch up.
You can often build a pergola or fire pit without a permit, but no worries, Lanier Yardscapes will always check with the building inspector's office before we start.
A louvered-roof pergola is a perfect cover for an outdoor fireplace or fire pit, as the louvers allow air to pass through but provide partial shade and cover from the Georgia sun. The weather will be a little chilly in the Fall, and the fire pit will be perfect for family gatherings after school or on the weekend. You can set up a TV screen and watch the game with hot cocoa, hot dogs, toasted marshmallows and even some s'mores.

A Seating Area in Your Front Yard
Maybe you don't want to go with anything as significant as a pergola and fire pit in the front yard. You might want a small seating area because you don't have a front porch. We can create a wonderful and comfortable seating area in the garden for bonding.
Lanier Yardscapes can enhance your garden seating with lighting features to make your front yard warm and inviting. Give us a call, and let's discuss your ideas.
Posted on behalf of Lanier Yardscapes LLC
115 Shamrock Industrial Blvd Suite B
Tyrone, GA 30290
Phone: (770) 337-5174
Mon. - Fri. 8:30 AM – 7:00 PM