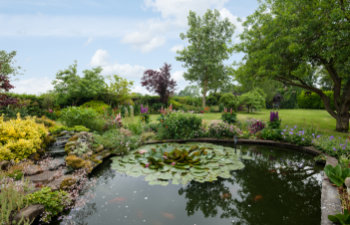 Integrating water features in Peachtree City can make a significant difference when creating captivating and serene commercial landscapes. Water has a universal appeal that evokes a sense of tranquility and beauty, offering numerous benefits to visitors and businesses alike.
In recent years, a design philosophy called "HAOs" (Harmony, Aesthetics, and Optimization) has emerged, guiding landscape architects and designers in creating harmonious outdoor spaces that maximize the potential of water features.
Ironically, this philosophy is also appropriate for Homeowner Association Properties, which uses the acronym HOA.
Harmony
Water features have a remarkable ability to create a harmonious ambiance in commercial landscapes. The soothing sound of flowing water and the visual allure of sparkling fountains or serene ponds can provide a much-needed respite from the hectic pace of urban life.
Incorporating water features into the overall design ensures that the landscape blends seamlessly with its surroundings, creating a sense of unity and tranquility.
Aesthetics
Water features act as focal points, enhancing the visual appeal of commercial landscapes. A well-designed fountain, waterfall, or reflecting pool can serve as a stunning centerpiece, captivating visitors and leaving a lasting impression.
HAOs encourage designers to consider the architectural style and theme of the space, ensuring that water features complement and enhance the overall aesthetics of the area.
Optimization
In addition to their aesthetic benefits, water features can optimize the functionality of commercial landscapes. By strategically placing fountains or waterfalls, designers can mask unwanted noise, such as traffic or nearby construction, creating a more pleasant environment for customers, employees, and visitors.
Moreover, water features can serve as natural cooling elements in hot climates, reducing the need for energy-intensive air conditioning systems and providing a refreshing oasis.
The incorporation of water features in commercial landscapes requires thoughtful planning and design. Here are some key considerations to keep in mind:
Scale and Proportion: Water features should be proportionate to the size of the space and the overall landscape design. A small courtyard may benefit from a compact, wall-mounted fountain. At the same time, a spacious plaza can accommodate more extensive, multi-tiered water features. Finding the right balance ensures that the water feature becomes an integral part of the landscape rather than overpowering it.
Maintenance: Proper maintenance is crucial to ensure the longevity and functionality of water features. Regular cleaning, water treatment, and inspection of pumps and filters are essential to prevent issues such as algae growth or mechanical failures. Partnering with experienced professionals or incorporating self-sustaining features like recirculating systems can simplify maintenance requirements.
Safety: Safety should always be a priority when incorporating water features in commercial landscapes. These precautions include ensuring appropriate water depths, installing safety barriers or railings, and integrating effective drainage systems to prevent water accumulation and potential hazards.
By applying the principles of HAOs and considering these factors, businesses can transform their outdoor spaces into captivating environments that foster well-being and provide a memorable experience for customers and employees alike.
For more information on incorporating HOAs in your commercial landscape, call Lanier Yardscapes in Peachtree City, GA.
Posted on behalf of Lanier Yardscapes LLC
115 Shamrock Industrial Blvd Suite B
Tyrone, GA 30290
Phone: (770) 337-5174
Mon. - Fri. 8:30 AM – 7:00 PM