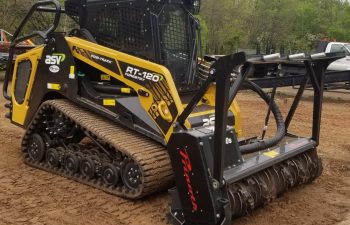 Do you have a piece of land you wish you could clear or use, but are put off by the huge effort and expense involved in clearing it? Lanier Yardscapes now has the perfect solution for Atlanta-area landowners – eco-friendly land management with Forestry Mulching.
What is Forestry Mulching?
Forestry mulching replaces the standard efforts of clearing land using multiple pieces of expensive, smelly and damaging heavy equipment with a single innovative machine. Lanier Yardscapes' new ASV RT120 Forestry Mulcher and Masticator with Prinoth M450S-1900 Mulching Head can cleanly and quickly clear underbrush and the most tangled growth, including trees up to 12 inches across. All this material is converted into coarse mulch that is a splendid source for your landscaping or use as an erosion-proofing ground cover for your property.
Clear land for sale, prepare for surveying and demarcation of boundary lines, create rights-of-way for roads or utilities and more, all with a single machine that does no damage to your soil or property while leaving behind a clean, usable landscape. The team at Lanier Yardscapes is trained and equipped to operate this machinery quickly and safely for the absolute best results.
Why Choose Forestry Mulching in Peachtree City?
In the past, clearing land required heavy loaders, backhoes, bulldozers, log skidders, wood chippers and dump trucks that consumed hundreds of gallons of fuel, belched stinking smoke and tore up the land, requiring more equipment to repair it for any sort of use. Calculate the cost to pay numerous professional equipment operators, fuel costs and machine fees, and your initial investment just to clear the land is considerable. Many Georgia land owners avoid clearing valuable property because of the immense cost.
Forestry Mulching removes all the burden and huge cost, reducing your initial investment to clear your land to a much more manageable figure. And, a single lightweight machine does all the work, leaving your property undamaged and covered in a fine mulch that is perfect to improve the soil, create a better wildlife habitat or ready your land for sale or development.
If you have unused, uncleared land around Atlanta, Peachtree City, Newton or Fayetteville, Georgia, call us at Lanier Yardscapes to ask about Forestry Mulching to quickly and efficiently clear your property.
Posted on behalf of Lanier Yardscapes LLC
115 Shamrock Industrial Blvd Suite B
Tyrone, GA 30290
Phone: (770) 337-5174
Mon. - Fri. 8:30 AM – 7:00 PM