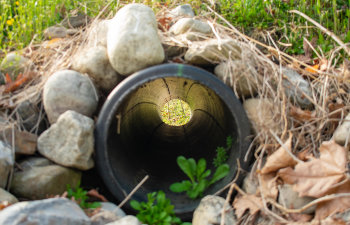 Basement flooding can be a major concern during the winter months in Georgia due to the increased likelihood of heavy rain, melting snow, and potential freezing conditions. To safeguard your home against basement flooding this winter, it is crucial to implement effective drainage solutions. Here are some strategies to prevent basement flooding and protect your property during the cold and wet winter months.
Proper Grading
Ensure that the ground surrounding your home is graded away from the foundation. This slope helps to divert rainwater and melting snow away from the basement walls. Improper grading can result in water pooling around your foundation, increasing the risk of basement flooding.
Gutters and Downspouts Maintenance
Clean and maintain your gutters and downspouts regularly. Clogged or damaged gutters can lead to water overflow, which may seep into the basement. Make sure downspouts extend several feet away from the house to direct water away from the foundation. Installing gutter guards can also help prevent debris buildup.
French Drains
Installing a French drain system around your home can effectively manage excess surface water and drainage from your roofing and gutter systems. French drains consist of a perforated pipe surrounded by gravel, which redirects water away from the foundation and into a designated drainage area. Proper installation and maintenance are crucial for its effectiveness – Lanier Yardscapes are French drain experts.
Landscaping Adjustments
Ensure that the landscaping near your home promotes water drainage away from the foundation. Avoid planting trees or shrubs too close to the house, as their roots can potentially damage the foundation or obstruct proper drainage. Our landscaping professional can assess your landscape design to determine if it is contributing to basement flooding. Changes to your landscaping may be part of the solution to prevent basement flooding and foundation damage.
Retaining Walls
Retaining walls serve as effective solutions for improved drainage in various landscaping and construction settings. These walls are designed to hold back soil and prevent erosion, allowing for better control of water flow. By redirecting or managing the movement of rainwater, they can significantly reduce the risk of soil erosion, flooding, and water damage.
Dry Wells and Drainage Solutions
Dry wells and creek beds give excess groundwater a convenient place to pool away from your home and basement. Our landscape professionals at Lanier Yardscapes can install the needed drainage solutions to protect your home and prevent damaging basement flooding.
Preventing basement flooding in winter requires a proactive approach, addressing potential issues before they become significant problems. Implementing drainage solutions and conducting regular property maintenance can help safeguard your basement and keep it dry even during the most challenging weather conditions in Georgia. If you are unsure about which solutions are best for your specific situation, consult with our team at Lanier Yardscapes. We can help ensure your home's basement remains safe and dry throughout the winter season – call our office in Tyrone to schedule a drainage inspection.
Posted on behalf of Lanier Yardscapes LLC
115 Shamrock Industrial Blvd Suite B
Tyrone, GA 30290
Phone: (770) 337-5174
Mon. - Fri. 8:30 AM – 7:00 PM