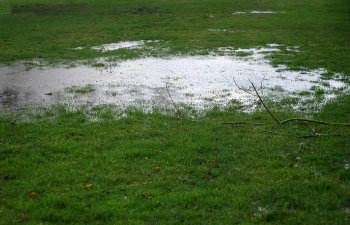 If you have noticed standing water puddles in your Peachtree City or Fayetteville, GA yard after a period of heavy rainfall, you could have a drainage problem. Inadequate drainage, through erosion over time or poor landscape design, can cause muddy soil, waterlogged plants, structural foundation problems, problems with your lawn grass and a proliferation of pesky mosquitoes.
If you notice a drainage problem on your property, don't let standing water ruin your summer. Lanier Yardscapes can diagnose the drainage issue and propose a solution to get your yard healthy and beautiful again.
North Georgia Drainage Solutions
The best drainage solution for your property in North Georgia depends on the reason for excess water or a lack of drainage. Flooding is the most common reason for drainage problems; runoff from heavy rain can carve ruts and new channels to ruin property that formerly had no drainage trouble. Time and erosion can also cause water to begin pooling in certain areas.
Poorly planned and executed landscape design can also contribute to excess water pooling in areas that become waterlogged, killing plants and grass and providing the perfect breeding ground for mosquitoes that carry disease.
Lanier Yardscapes is your expert team in Fayette County and all across North Georgia for fixing drainage problems to restore balance and beauty to your yard or other property. We can quickly determine the cause of your puddled water or other drainage issues and design a solution. Some of the most common include:
Restoring proper grades to the landscape
Leveling soil
Drainage ditches
French drains
Retaining walls
Catch basins
Landscape elements
The team at Lanier Yardscapes always seeks to find the simplest and most economical solution possible for any drainage problems. Sometimes it can be as easy as installing a single ditch, drain or landscape element.
Peachtree City Landscaping and Drainage Services
Whether we need to install or move a few simple landscape elements or install French drains or retaining walls, Lanier Yardscapes always takes great care of your property and ensures minimal impact to solve any drainage problems. We only pose long-term solutions and use the latest techniques and technologies available.
With decades of experience behind our talented team, you can depend on us to do the job right the first time. Contact us today if standing water in your yard is already causing problems. We can restore the health and beauty of your property for the summer.
Posted on behalf of Lanier Yardscapes LLC
115 Shamrock Industrial Blvd Suite B
Tyrone, GA 30290
Phone: (770) 337-5174
Mon. - Fri. 8:30 AM – 7:00 PM