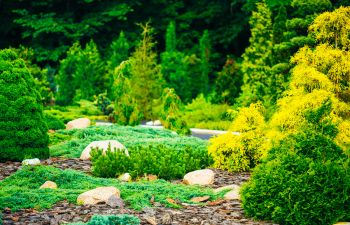 Can your neighbors see you relaxing on your patio or in your pool? Do you feel on display when people go by your house? Privacy is important, especially when you are in your home. Fences can offer some privacy, but it is not always the best solution. If you want to make your home a private oasis, consider the benefits of adding privacy trees to your property.
Trees that have thicker, wider branches and grow quickly are labeled "privacy trees." These trees can be planted in a line to create a natural barrier between your home and the road or neighbors. Some of the popular types of privacy trees include:
Cedar
Evergreens
Cypress
Green Giant hedges
Thuja
When planted close together, these trees can expand and grow to provide a thick wall of beautiful green branches. Many of these trees can grow 3-5 feet per year, creating a high barrier for the ultimate in privacy.
Benefits of Privacy Trees
Privacy trees can offer many benefits over fencing. While fences are great for safety and security, they do require maintenance. Privacy trees can provide a higher barrier if you have neighbors with multi-story homes that peer down into your yard. While some privacy trees may need trimming if you want to control their shape or size, they do not need painting, staining, cleaning or repairs like fencing. Your privacy tree fence can last for decades and costs a fraction of the price of installing and maintaining a fence.
Privacy trees are an investment in your property. While they do require a few years to grow into the green wall you desire, it is worth the effort. If you plan on living at your home for many years to come, planting your barrier now will pay off in privacy in the future.
Our team at Lanier Yardscapes can help you build your natural green wall for the ultimate in privacy. To learn more about installing privacy trees and the varieties available, contact us for a quote. We serve the greater Peachtree City, Newnan, Fayetteville, Stockbridge and Jonesboro area for all their landscaping needs.
Posted on behalf of Lanier Yardscapes LLC
115 Shamrock Industrial Blvd Suite B
Tyrone, GA 30290
Phone: (770) 337-5174
Mon. - Fri. 8:30 AM – 7:00 PM