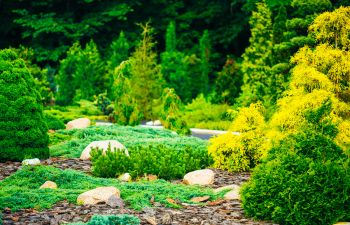 A beautiful commercial landscape will give your business or organization a touch of class. A lawn can serve as a visual feature or somewhere for patrons to relax. However, when the weather takes a turn for the worst, nobody will want to sit on wet grass.
Thankfully, a landscape can become so much more than a lawn bordered by plants and trees. When you use your imagination, there are plenty of ways to make outdoor spaces functional. Visitors will appreciate your efforts and the presence of people may even draw new customers or clients.
Restaurants
A restaurant with space for a lawn can further capitalize by adding alfresco dining features. An outdoor kitchen is one idea that will bring in customers during the warmer months. You can also build stone or bench-style seating to enhance the appeal of the space.
Other features such as ponds, fountains and play areas are beneficial additions that will set your restaurant apart from the competition. Think about the type of customers that your business attracts and add hardscapes that are appealing.
School & College Campuses
Outdoor seating, a designated speaker's corner and play park are just some ideas for enhancing the appeal of a school or college campus. When your students get the chance to enjoy downtime, make outdoor spaces welcoming and relaxing.
Some students enjoy studying outside, rather than in a stuffy library. Create spaces on campus that help these students concentrate. From comfortable outdoor seating to an outdoor learning lab, there are countless landscape facilities that have been proven to enhance the student experience.
Outdoor Spaces for Employees
It is also important to remember that your employees are hardworking people who deserve to relax during breaks. For many employees, downtime without leaving the working environment can feel pointless. By creating outdoor living spaces that offer comfort and an oasis away from the workplace, you can boost morale, which may lead to increased productivity.
If you would like more ideas for creating a more functional landscape, reach out to Lanier Yardscapes for residential or commercial services in and around Fayetteville, GA.
Posted on behalf of Lanier Yardscapes LLC
115 Shamrock Industrial Blvd Suite B
Tyrone, GA 30290
Phone: (770) 337-5174
Mon. - Fri. 8:30 AM – 7:00 PM