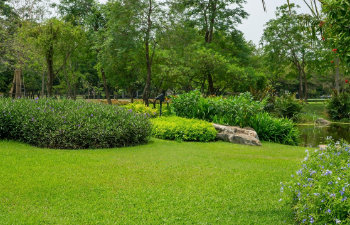 Pine straw is a natural garden mulch that has several advantages. First, pine straw is a natural by-product, as pine trees naturally drop it. Pine needles last very long and offer superb growing conditions for healthy plants, shrubs and trees. Below are some benefits of using pine straw in your garden.
Visual Appearance and Cost Effective
The beautiful auburn-like color of pine straw creates a clean and attractive covering for gardens and landscapes. In addition, pine straw retains its auburn hue longer than most other garden mulches, reducing the time and cost associated with reapplying it to your garden.
Lightweight and Easy to Apply
Pine straw is one of the most convenient mulches since it is lightweight, easy to handle and has a low weight per cubic foot compared to other mulches. Applying pine straw bales to your garden or landscaping is simple and requires less maintenance.
Prevents Erosion
If you live somewhere with frequent rainfall, pine straw is an excellent option for organic mulch. Unlike other mulches, pine straw does not float or wash away. Therefore, it works well in landscapes with slopes or locations that frequently experience bad weather.
Pine straw does not need to be replaced as frequently as other landscaping mulches because it breaks down slowly. In addition, since pine straw sticks well to slopes, it will aid in the prevention of soil erosion in your garden or landscape, functioning as a blanket to protect plants from harsh weather.
Improves Plant and Soil Health
Using pine straw as mulch in your landscape improves soil and plant health. Pine needles are rich in nitrogen; thus, their decomposition is a fertilizer for your plants, shrubs and trees. Pine straw also does not compact and improves water filtering. Furthermore, pine straw acts as an insulator for your plants, keeping them warm in the winter and cool in the summer.
Weed and Pest Control
Pine needles are an excellent deterrent since they slow down weed growth and keep trees and shrubs from decaying. Additionally, pine straw discourages garden pests and aids in termite prevention.
Boost Your Garden's Health
If you want to add pine straw to your landscape or bring old planting beds back to life, the professional landscapers at Lanier Yardscapes can help. Contact us today if you need a long-needle or short-needle pine straw delivery or any other landscape or lawn maintenance services.
Posted on behalf of Lanier Yardscapes LLC
115 Shamrock Industrial Blvd Suite B
Tyrone, GA 30290
Phone: (770) 337-5174
Mon. - Fri. 8:30 AM – 7:00 PM