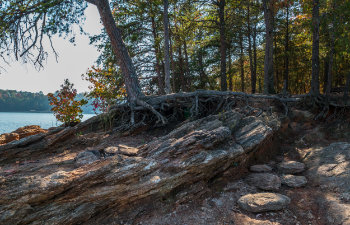 Nestled in the picturesque landscapes of Peachtree City, Georgia, the team at Lanier Yardscapes understands the challenges that erosion poses to your property.
The scenic slopes and verdant yards that make this area so appealing are also susceptible to the forces of wind, rain, and gravity, which can lead to erosion. Erosion isn't just an eyesore; it can have far-reaching consequences for your property's value and overall aesthetic.
At Lanier Yardscapes, we are your dedicated partners in the fight against erosion. We offer effective solutions that safeguard your landscaping investments and protect your property.
Landscape Erosion
Erosion is particularly prevalent in sloped areas, where the combined impact of rain, wind, and gravity can wreak havoc on the topsoil. Over time, this erosion can strip away the essence of your landscape, leading to mudslides and destabilized soil. The damage can compromise the integrity of your home's foundation or paved areas.
But fear not – Lanier Yardscapes is here to provide tailored erosion control options that offer both immediate relief and long-term protection. Our erosion control specialists begin by conducting a comprehensive evaluation of your property. With this insight, we devise a strategic plan addressing your specific erosion challenges head-on. We offer an array of practical techniques to stabilize the soil and prevent further loss, including:
Adding Quality Soil: Infusing your landscape with premium soil curbs erosion and enhances the vitality of your plants and greenery.
Grading: Skillful grading helps channel water away from vulnerable areas, reducing the impact of erosion and minimizing its effects.
Planting for Soil Stabilization: Introducing carefully selected plants and foliage can anchor the soil and mitigate erosion's impact, all while adding natural beauty to your landscape.
Retaining Walls: These structures are functional and aesthetically pleasing, preventing soil runoff and creating visually appealing terraces.
Proper Drainage Installation: Well-planned drainage systems divert excess water away from your property, thwarting erosion's advances.
Anty-Erosion Strategies
By understanding the unique interplay of ground covering, soil type, drainage, and support systems, we tailor each erosion control solution to your property's specific needs. Our commitment to safeguarding your property is evident in our custom-designed plans that address erosion at its source, providing sustainable and enduring solutions.
As a Georgia property owner, you're undoubtedly invested in preserving your home's allure and value. Lanier Yardscapes proudly serves as your trusted partner in Clayton and Fayette counties, offering a comprehensive suite of erosion control services that put an end to the erosion menace.
Whether you're grappling with sinkholes, slope erosion, or soil destabilization, our team of experts is ready to spring into action.
Ready to take the first step towards an erosion-free landscape? Contact Lanier Yardscapes today to schedule an evaluation. Our erosion control experts are poised to provide recommendations tailored to your outdoor spaces.
Together, let's ensure that erosion remains a thing of the past, preserving the beauty and integrity of your Peachtree City haven for years to come.
Posted on behalf of Lanier Yardscapes LLC
115 Shamrock Industrial Blvd Suite B
Tyrone, GA 30290
Phone: (770) 337-5174
Mon. - Fri. 8:30 AM – 7:00 PM