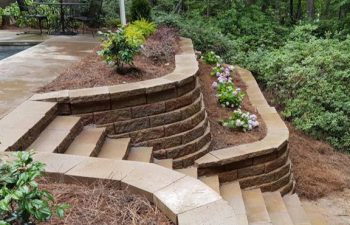 If you have a landscape that slopes in places, designing a beautiful garden can become a challenge. One of the best solutions for such a problem is installing retaining walls to create a tiered effect that is both practical and aesthetically stunning.
Retaining walls are a great way to level the playing field when it comes to uneven land. Rather than attempting to work with the lawn area as it is, you can create paths and steps down through multiple levels. By doing so, homes and commercial premises can achieve luxury through innovation.
Retaining Wall & Lawn Tier
A popular method of using retaining walls is to contain soil at either end of a descending path or steps leading to a lawn. You can level a section of land from the porch to where an incline begins, followed by the installation of a suitable tier system that addresses the angle of the slope.
At Lanier Yardscapes, we have helped countless Tyrone families and businesses design retaining wall solutions for the most challenging terrain types. This simple yet effective approach to landscaping will completely transform your outdoor living experience.
Integrated Features
Retaining walls work well with other hardscape features including paths, steps, pools and flowerbeds. You can make retaining walls a central theme in your landscape or supporting characters for the real stars of the show. The versatility of retaining walls is only matched by what you can imagine.
Irrigation systems are easily integrated with retaining walls. In many cases, drainage problems are resolved by reforming the layout and orientation of a difficult landscape. The team at Lanier Yardscapes will support you through the design and installation process, based on the specific needs of your home or business premises.
Call Lanier Yardscapes today to learn more about potential benefits of retaining walls in Tyrone, GA.
Posted on behalf of Lanier Yardscapes LLC
115 Shamrock Industrial Blvd Suite B
Tyrone, GA 30290
Phone: (770) 337-5174
Mon. - Fri. 8:30 AM – 7:00 PM