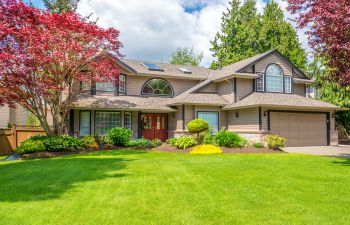 Do you have standing water in your yard? Is there a section of your lawn that is swampy and unusable? Do you have a place in your yard that is scarred from the repeated flow of water during heavy rainstorms? Without proper drainage solutions in place, your landscape can be increasingly damaged with each influx of water.
Incorrect Watering
Standing water problems could be as simple as a poor watering technique. Overwatering your landscape could be causing an excess of water on your property, resulting in standing water areas. Or there may be a leak in your irrigation system that is the culprit.
Improper watering can be a cause of erosion and drainage problems. Fortunately, this is a simple problem to solve. Correcting a watering issue or repairing a malfunctioning irrigation system can be solved relatively easily.
Excess Water Off a Roof
Water coming off the roof could be the cause of your landscaping woes. A roof is able to shed an impressive amount of water. If there are gutters, water is limited to the downspouts and can force a large amount of water in one direction. This can cause a significant amount of soil erosion. This can also overload a large amount of water to one section of your lawn.
In this case, your solution may be as easy as extending the drainage system into an area where it will not cause problems. Since water will take the path of least resistance, it may be simple to create a path for the water to go where it will not be an issue.
Neighbor's Water Problems
Some neighborhoods are tightly packed and a neighbor's drainage solution may include part of  your yard. Often where property lines meet becomes the common drainage area. This creates a sloshy, unusable area of your lawn.
Although it may fall to you to salvage your part of the land, a French drain may be the solution.
Be Proactive
Your drainage and erosion issues will only get worse with time. It is better to deal with them now before the damage becomes a big headache or a more costly repair.
A landscape professional with an understanding of yard drainage can help you solve water problems. Lanier Yardscapes wants you to have peace of mind and be confident that you have the best property on the block. Call today.
Posted on behalf of Lanier Yardscapes LLC
115 Shamrock Industrial Blvd Suite B
Tyrone, GA 30290
Phone: (770) 337-5174
Mon. - Fri. 8:30 AM – 7:00 PM